Spider-Man
Fictional Marvel superhero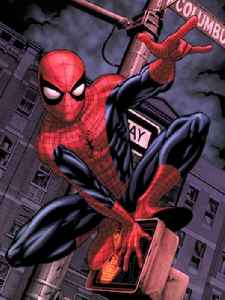 Spider-Man is a fictional superhero created by writer-editor Stan Lee and writer-artist Steve Ditko. He first appeared in the anthology comic book Amazing Fantasy #15 in the Silver Age of Comic Books. He appears in American comic books published by Marvel Comics, as well as in a number of movies, television shows, and video game adaptations set in the Marvel Universe. In the stories, Spider-Man is the alias of Peter Parker, an orphan raised by his Aunt May and Uncle Ben in New York City after his parents Richard and Mary Parker were killed in a plane crash. Lee and Ditko had the character deal with the struggles of adolescence and financial issues, and accompanied him with many supporting characters, such as J. Jonah Jameson, Harry Osborn, Max Modell, romantic interests Gwen Stacy and Mary Jane Watson, and foes such as Doctor Octopus, Green Goblin and Venom. His origin story has him acquiring spider-related abilities after a bite from a radioactive spider; these include clinging to surfaces, shooting spider-webs from wrist-mounted devices, and detecting danger with his "spider-sense".


From Epcot's update to a Spider-Man ride, everything Disney revealed about its parks at D23
Are you planning to visit a Disney park in the next few years? If so, here are the new attractions and shows coming your way, including a Marvel land.
USATODAY.com - Published
Video shows real-life 'Spider-Man' scaling down 19-story building during Philly fire
A man climbed down the side of a 19-story building to escape a fire in Philadelphia. He made it to the ground safely, according to local media.
USATODAY.com - Published
MOVIE REVIEW: Spider-Man: Far from Home
by Graham Pierrepoint - SPIDER-MAN: FAR FROM HOME IMDb Dir: Jon Watts Starring Tom Holland, Samuel L Jackson, Zendaya, Cobie Smulders, Jon Favreau, JB Smoove, Jacob Batalon, Martin Starr, Marisa..
One News Page Staff - Published
ShowBiz Minute: Kardashian West, Spears, 'Spider-Man'
Kim Kardashian West faces backlash over Kimono shapewear; Britney Spears' conservatorship sues blogger for defamation; Tom Holland premieres "Spider-Man: Far From Home" in Los Angeles. (June 27)
USATODAY.com - Published
Samuel L. Jackson says he's not ACTUALLY angry about that 'Spider-Man' poster error
Samuel L. Jackson insists he was joking with his expletive-laden post complaining that a 'Spider-Man' poster had Fury's eye patch on the wrong eye.
USATODAY.com - Published
No, Tom Holland and Zendaya aren't dating, despite rumors around the 'Spider-Man' co-stars
Tom Holland revealed to Elle that he is not dating co-star Zendaya, and says he is actually not dating anyone right now.
USATODAY.com - Published
You Might Like