Sioux
Native American and First Nations people in North America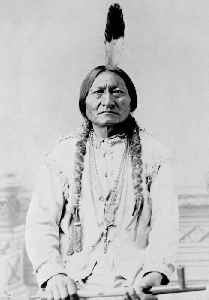 The Sioux are groups of Native American tribes and First Nations peoples in North America. The term is an exonym created from a French transcription of the Anishinaabe term "Nadouessioux", and can refer to any ethnic group within the Great Sioux Nation or to any of the nation's many language dialects. The modern Sioux consist of two major divisions based on language divisions: the Dakota and Lakota.


Today in History for December 15th
Former Nazi official Adolf Eichmann sentenced to death; Bandleader Glenn Miller disappears over the English Channel; The Bill of Rights takes effect; Sioux Indian Chief Sitting Bull killed; Walt Disney..
USATODAY.com - Published
Arthur Lazarus Jr., Champion of Native American Rights, Dies at 92
He won a landmark victory for the Sioux Nation after 57 years of litigation, believed to be the longest court case in U.S. history.
NYTimes.com - Published
Search this site and the web:
You Might Like